The Cobra Owners Club of America was founded in 1974 as a result of Carroll Shelby, who had a passion for performance. Born January 11, 1923, in Leesburg, Texas, Carroll Hall Shelby grew up in east Texas and attended high school in Dallas. He served as a flight instructor at Lackland Air Force Base near San Antonio during World War II. He was a champion with an unquenchable desire to win. He is a real American success store and an icon that embodies the ingenuity, tenacity and grit needed to win in business, competition and philanthropy. The Shelby name is synonymous with performance. It's a part of the man's DNA, which was molded and shaped during years of competition. His vision of the automobile changed the rules for automotive performance forever. Today, Carroll Shelby and the companies he founded are a driving force for products and industries worldwide.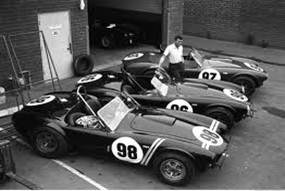 Carroll Shelby is one of the most recognized names in performance car history, and he's been successful at everything he's done," said Edsel B. Ford II, a member of the board of directors of Ford Motor Co. and great-grandson of Henry Ford, founder of the company. "Whether helping Ford dominate the 1960s racing scene, to building some of the most famous Mustangs, his enthusiasm and passion for great automobiles over six decades has truly inspired everyone who worked with him."
While his ability to race automobiles at exhilarating speeds has made Carroll Shelby one of the most prolific personalities in the automotive industry, that success did not happen overnight. A WWII aviator, Carroll began racing – and winning – in the mid-1950s. His first race was at a drag strip in a 1932 Ford. Moving to road racing, he captured three national sports car championships in the United States, earned a spot on the Aston-Martin team in Europe, won international races that included a victory at the 24 Hours of Le Mans and set land speed records at Bonneville. Twice, he was named Sports Car Illustrated's "Driver of the Year." These wins led the charming, East Texas chicken farmer to a storied career that spanned the spectrum from driver to team owner, manufacturer and consultant. When Shelby's health caused him to abandon his driving in 1960, Carroll moved from the driver's seat and turned his attention manufacturing.
Shelby believed in combining big horsepower with inspired engineering, which led him to take Ford's new small block engine and shoehorn it into AC's lightweight Ace. Christened the Cobra, CSX 2000 was introduced at the New York Auto Show in 1962. This focus on pure performance turned the sports car world on its ear.
In 1963, Shelby took a team of Cobras to Europe to race against Ferrari, Porsche and Jaguar on their own turf. Superstars like Bob Bondurant, Dan Gurney, Ken Miles and others driving for Team Shelby captured the Grand Touring World Championship in 1965. Gurney and Bondurant returned the next year for Team Shelby to win the 24 Hours of Le Mans in a Ford GT40. The team repeated their Le Mans win in 1967. At the same time, Shelby's operations turned out the Shelby 289 and 427 Cobras, as well as a succession of Mustang based Shelby's'. In 1992, Carroll Shelby was inducted in the Automotive Hall of Fame for his body of achievements.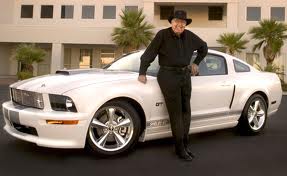 From his fire breathing Cobras, Series 1 and Ford Shelby Mustangs to his involvement in the Viper and Ford GT, he has continued to push the performance envelope. Shelby Automotive is still making automotive history with the CSX4000 and CSX6000 427 Cobras and the CSX7000 289 FIA Cobras and CSX8000 289 based Cobras. Also, In 2006, he formed a new partnership with Ford Motor Company. Since then, the fantastic Shelby GT500, Shelby GT and Shelby GT500KR, and most recently, the GT350 have moved him once again into the fast lane. His performance philosophy is as relevant and appealing to enthusiasts today as it was 50 years ago.
Some people design cars. Carroll Shelby and his Shelby Automobiles team breathe life and spirit into them. Carroll Shelby was the world's longest living heart Transplant recipient and also received a kidney from his son. In later years, despite his declining health, Carroll was always a true champion and kept his promises in delivering special high performance cars! Carroll and his wife, Cleo, regularly attended the Orange County Cobra Club's annual Holiday Charity Event. Carroll often remarked that this was the only private holiday party that he and Cleo attended outside his formal business commitments. He will be missed, but his legacy will live on!!!